Commercial Roofing Contractor in MN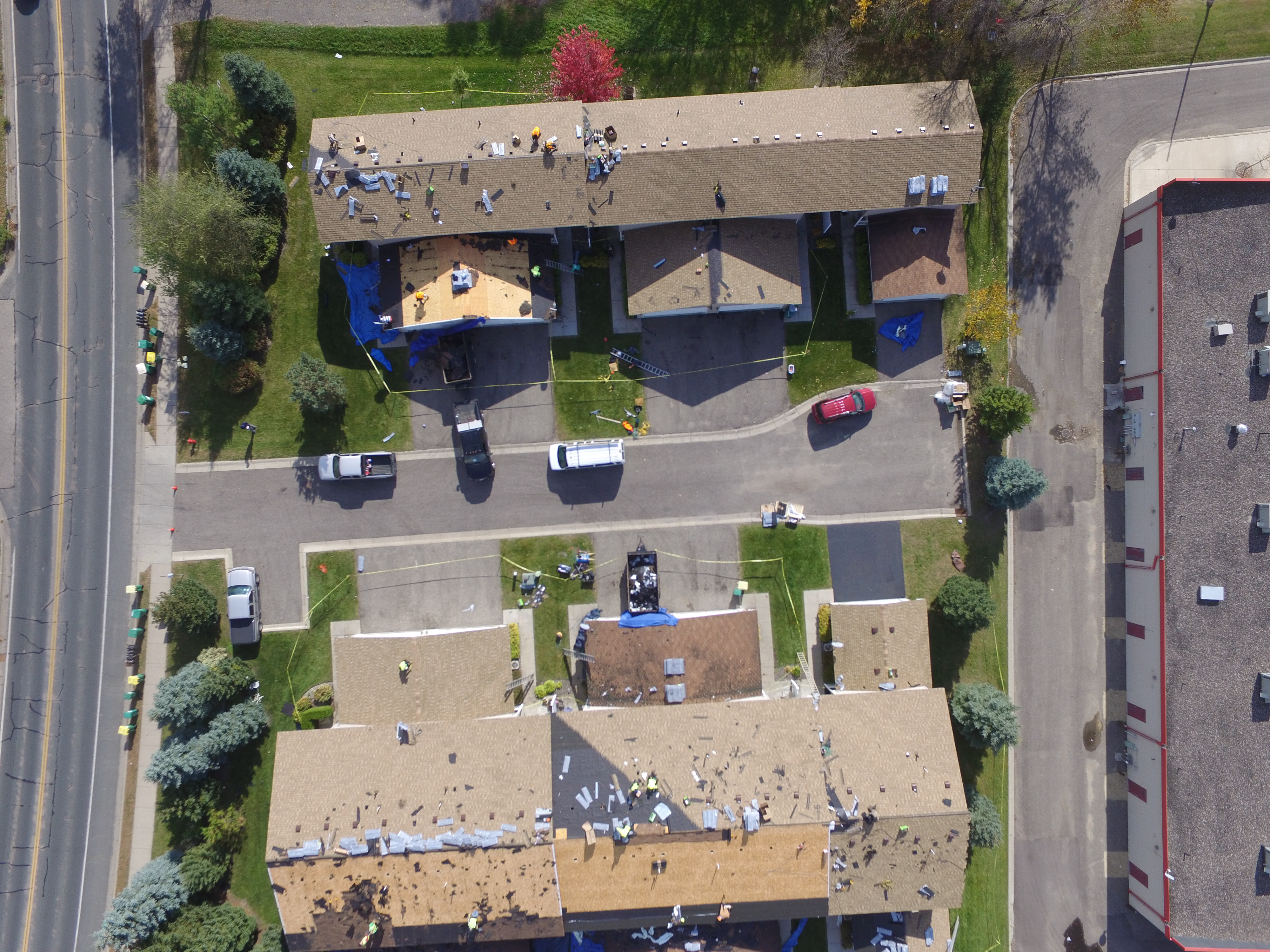 Multi-family housing. When serious roof leaks or storm damage occurs, we work quickly to keep tenants safe.
High-quality, reliable solutions for your commercial roofing needs in Minneapolis, St. Paul, and nearby
As with the various aspects of residential roofing and siding, exteriors contractor Trinity Exteriors, Inc is well versed and experienced in the particular demands of commercial properties. Whether it is an apartment building with residents, churches with events, or businesses with consumer storefronts, we understand the complexities of undertaking commercial projects large and small.
If you own or manage a commercial property and are in need of roofing services, contact us today for a free cost estimate. We Take The Worries Away about your commercial building's exterior restoration in Eden Prairie, St. Paul, Minneapolis, Burnsville, Minnetonka, Cottage Grove, Inver Grove Heights, Savage, Chanhassen, Rosemount, and the surrounding areas.
Our commercial roofing services in Greater Twin Cities Metro Area

Roof inspections
Roof replacement
Reroofing
Roof repair
Roof maintenance
Flashing repair & replacement
Flat, low-slope and sloped roof expertise
All roofing materials & treatments available
Free estimates for all roofing work
We also specialize in multi-family projects
If you own a townhome or condo and are concerned about the condition of your roof or siding, Trinity Exteriors, Inc can help you undertake the project. Experienced in all aspects of large multi-family projects, we can assist you in the initial inspection of the property to determine what, if any, action should be taken in the repair or restoration of the exterior.
If work is needed, our trained representatives will assist you in bringing the matter to the attention of the board and other community members for decision. In addition, if the need for replacement or repair is due to severe weather such as wind or hail (both frequently seen in Minnesota), we can help guide you and your association through the storm restoration process with the insurance company.
Why choose us as your commercial roofing company?
Every community has plenty of roofing contractors. We want to earn your commercial roofing business the old-fashioned way – by exceeding your expectations for responsive, top-quality service. Here's what you can count on when you call on Trinity Exteriors, Inc:
Courteous professional service. At Trinity Exteriors, Inc, we recognize that your commercial property is a valued asset that plays a major role in your business success. Our pledge is to always respond quickly to your commercial roofing needs and to deliver the best value and highest quality every time.
Well-trained workers. We recruit conscientious, dedicated team members, train them well and make sure they have the skills to do top-quality work. Whether you need repairs on an old-fashioned built-up roof, a new single-ply roof, polyurethane foam roofing or anything in between, we have the know-how to serve your needs.
Excellent equipment. We are constantly updating our tools, trucks and other equipment to ensure that every crew can work safely, efficiently and to top industry standards.
Access to the best roofing materials. We deal with major building material manufacturers to make sure we have access to the best roofing products at competitive prices.
If you are looking for a Greater Twin Cities Metro Area commercial roofing contractor, call Trinity Exteriors, Inc or email us today to make sure you get the best value in commercial roofing. Get started with your free commercial roofing cost estimate!
Looking for a price? Get a no cost, no obligation free estimate.