About Trinity Exteriors, Inc
Trinity Exteriors, Inc is an Eden Prairie, MN-based exterior restoration contractor specializing in roofing and siding. In business since 2007, we are proud to have developed a large following of satisfied customers who rely on us to help them, their families and their friends with all their roofing and siding restoration needs. We attribute our success and growth over the years to three guiding principles: service, quality, and integrity.
About the Owner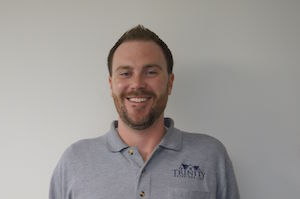 Ted Swanson, owner of Trinity Exteriors, Inc
Ted Swanson got his start in the construction industry in 2003, just after graduating from the University of St. Thomas with a degree in entrepreneurship. The company he worked for was looking to aggressively grow, allowing Ted to advance and progressively master the sales and operations processes. However, after working there for five years, it became clear that the company's quest for expansion steadily relied on high-pressure sales tactics and mediocre customer service.
In 2007, Ted started Trinity Exteriors, Inc, a new kind of company that focused not only on providing customers a new roof or siding, but also a memorable experience that they would want to repeat. With a lot of help from a great group of employees, Ted is able to deliver his three pillars of service, quality, and integrity to every new customer of Trinity Exteriors, Inc.
Outside of work most of Ted's time is spent with his wife Merrill and his two young daughters. As a family they enjoy spending as much time as possible outside.
Recent Testimonials
"Once the project was started the workers saw the job completed in a timely manner."

Homeowner of Naperville, IL

"I was most satisfied with the whole installation process."

Homeowner of Aurora, IL

"When work was being done all workers were very nice. They made sure all trash was removed at the end of the..."

Homeowner of North Aurora, IL
Our Service
We believe in treating our customers like family from our first meeting to the final stages of clean up. We understand the importance of communication with our customers throughout the entire roof replacement process in order to ensure complete customer satisfaction.
Our Quality
Trinity Exteriors, Inc realizes that a customer's home or business is their most valuable asset, and we have very high standards for the quality of the craftsmanship we deliver. We use the finest roofing and siding materials available, and our installers are experienced and highly skilled. Our customers are left with peace of mind knowing that all of our work is backed by excellent workmanship and manufacturer warranties.
Our Integrity
We are a company you can count on to do things the right way. When working with Trinity Exteriors, Inc you can expect honesty and fairness at all times.
Giving Back
At Trinity Exteriors, Inc we believe that in order to succeed at being the leading roofing and siding restoration contractor in Greater Twin Cities Metro Area, we must do our part to support our community. In the last year our company has made donations of time and money to several organizations designed to help our neighbors in need.
Below is a list of organizations that we have supported:
PKD Foundation
Hope Adoption and Family Services
Habitat For Humanity
Minnesota Military Appreciation Fund
Toys For Tots
Feed my Starving Children
Salvation Army
Affiliations
MN Association of Exterior Specialists (MNAES)

Minnesota Multi Housing Association (MHA)

CIC Midwest Member

Community Associations Institute

GuildQuality Member

Owens Corning Platinum Preferred

TAMKO Pro Certified Contractor

Expert Installer

Velux 3-Star Skylight Specialist
See All Affiliates